Attachments…it could be argued that they are the heart of the public records request management workflow. Keeping original, reviewed, redacted and released records secure, organized and readily accessible requires modern technology that accepts all file types and sizes and helps users make sense of it all. Reduce your risk of non-compliance AND enjoy easy-breezy software tools to help you move requests from intake and vetting through to gather, review, release and report seamlessly. It's time to make the switch to GovQA's new Attachments Workspace!
Key Features:
Organize your attachments with

folders and subfolders
Drag and drop

files or folders directly onto the page to upload

Create basic tags

on the fly

as needed to quickly locate attachments

Right-click

on the file or folder to quickly take action

Redaction tags are automatically added for easier attachment identification and management

Reduce your risk of non-compliance by preventing accidental disclosure of sensitive information
Attachment Workspace Basics
Folder view/List view

– toggle between two views to help maximize workspace

Action menu

– select one or more files and take an action to add to folder, redact, edit tags, download or delete

Details panel

– select an attachment and click the arrow to view and edit attachment details

Description

– add a description to an attachment and it will appear below the attachment name

Right-click

on a file or a folder to take actions

Perform bulk actions

— just select multiple files or folders and take an action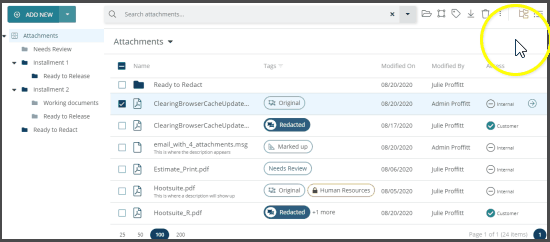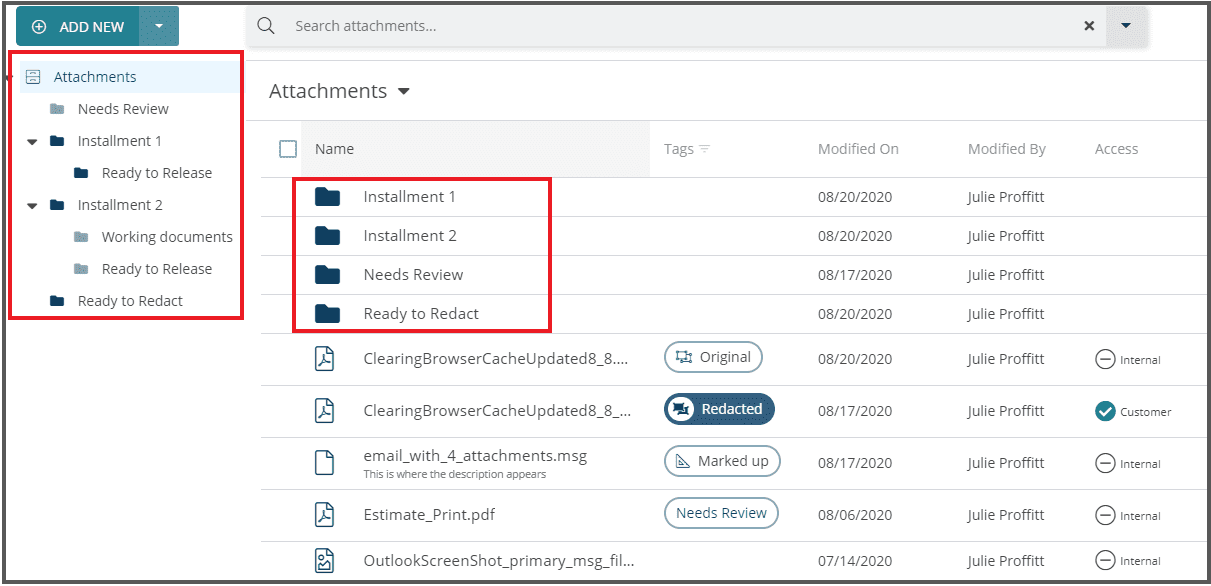 Organize attachments with folders and subfolders. Create unique folders for each request.
Upload folders directly from your computer and the folder structure will automatically be created within the request
Drag and drop folders to upload or to move folder for reorganization
Folder breadcrumbs indicate folder architecture and provide quick folder actions
Use tags as an organizational tool to help you find similar attachments easily and/or communicate routine information about the attachment to other users.
Types of Tags: Basic tags, Security tags and Redaction auto-tags
Add a basic tag to "flag" an attachment to make it easier to find

Create new basic tags on the fly and use them instantly

Search using tags within the new Smart Search or Advanced Search to quickly locate files of interest

Filter the attachments list by tags, including Security tags and Redaction auto-tags

Add more than one tag to an attachment if needed

Drag and Drop for Quicker Attachment Management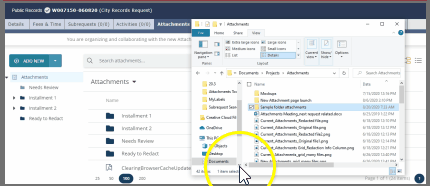 Drag and drop files or folders

directly onto the page

to upload

. Adding a folder automatically creates the folder structure within the request.

Drag and drop files and folders

to relocate

within the folder architecture for better attachment organization.
Smart Search and Advanced Search
One-Click Smart Search allows quick filtering of attachments using existing attachment key fields with a single click.
Use Advanced Search when you need to search on more than one search parameter.
Access Smart Search by clicking directly into

the "Search attachments" field.

Quickly conduct an Advanced Search by clicking on the dropdown arrow next to

the "Search attachments" field.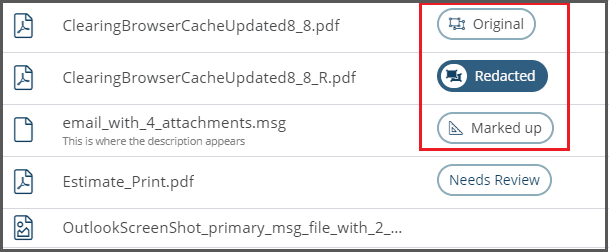 Redaction auto-tags display automatically to indicate redaction status: Marked up, Original and Redacted
"Marked up" auto-tag will appear when an unpublished markup file is available within the attachment.
Once a markup file has been published, the "Original" auto-tag will appear.

The newly created redacted document is easily identifiable with the solid blue "Redacted" auto-tag.